YGDP Tool v3.10 is a small utility designed for flashing firmware files on Android smartphones and tablets. This tool is developed by Coolpad Group Limited to flash or install firmware particularly on Coolpad devices, although it may work on other brands as well.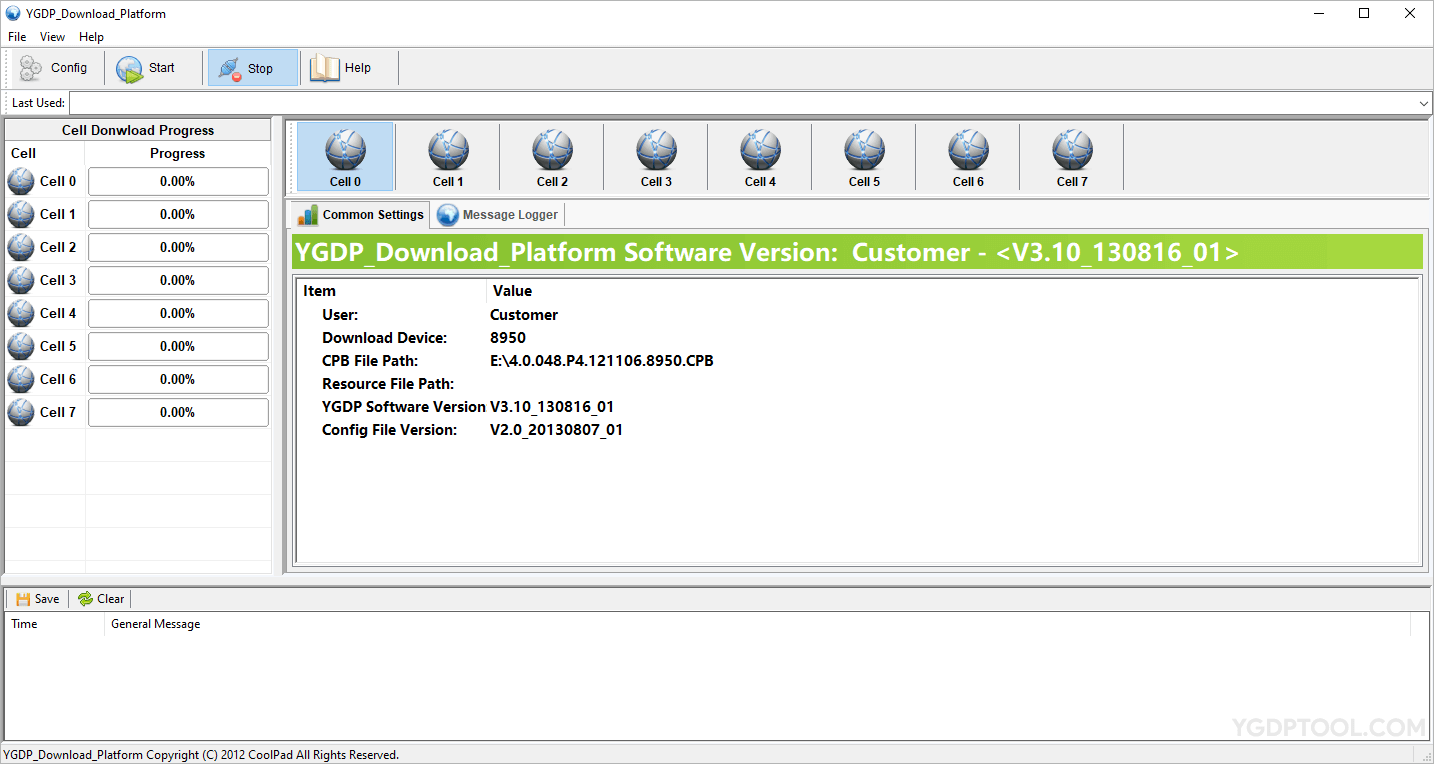 What is YGDP Tool for Windows
YGDP Tool is a Windows-based flashing tool for Android smartphones and tablets, especially Coolpad devices. It allows users to flash firmware files, including upgrading or downgrading firmware, fixing bricked devices, and installing custom ROMs. The tool has a user-friendly interface and supports the .CPB file format is a popular choice for mobile users who want to flash or modify their device's OS.
The YGDP Tool is a free and open-source flashing tool for Android devices. This means that anyone can use it regardless of their budget or technical skills. Additionally, the tool is regularly updated to maintain compatibility with the latest Coolpad devices and Android versions, ensuring it is always reliable.
Some of the key features of the YGDP Tool include:
Firmware Flashing: This feature allows users to flash firmware onto Coolpad devices, upgrading the operating system and software for enhanced performance and increased security.
Device Recovery: The tool can unbrick devices, restoring their functionality and thereby saving users from expensive repairs or replacements.
Preload Image Flashing: The YGDP Tool can flash preload images onto Coolpad devices, ensuring that the device starts up correctly for optimal performance.
CPB File Flashing: This feature allows the tool to flash CPB files, which contain crucial partition and memory layout information, ensuring successful flashing and optimal device performance.
Multi-Port Flashing: The tool supports simultaneous flashing of multiple devices, making device management easier and saving time for technicians and developers.
Logs and Notifications: The YGDP Tool keeps users informed of the flashing process progress and any potential issues, facilitating a swift resolution to problems.
Download YGDP Tool V3.10
| | |
| --- | --- |
| Name | YGDP Tool V3.10 |
| Type | Flash Tool |
| Developer | Coolpad Group Limited |
| File Name | YGDP_Setup_V3.10.zip |
| File Size | 5.47 MB |
| Version | 3.10 |
| Login Password | 9527 |
| Supports | Microsoft Windows (32-bit and 64-bit) |
Frequently Asked Questions
What is YGDP Tool V3.10?
YGDP Tool V3.10 is a Windows-based flashing tool that allows you to flash the firmware on smartphones and tablets. It is a popular tool among mobile repair technicians and enthusiasts because it is easy to use and supports many devices. The YGDP Tool can flash stock, custom firmware, and recovery images. It can also be used to unlock bootloaders and root devices.
How do I install YGDP Tool V3.10?
You can install YGDP Tool V3.10 by downloading the .exe file and running the installer on your computer. The installation process is similar to that of any other Windows application.
How to use YGDP Tool V3.10?
First, install the YGDP Tool on your computer. Then, load the firmware into the tool. Next, power off the device and connect it to the computer. Click on the "Start" button to begin the flashing process. Alternatively, you can follow the instructions on How to use YGDP Tool to install firmware.
Is YGDP Tool V3.10 Free?
Yes, YGDP Tool V3.10 comes at no cost to users. This is attributed to its official release by Coolpad Group Limited, and it is explicitly intended to benefit those who have Coolpad mobile devices.
Is YGDP Tool V3.10 Safe?
Yes, the YGDP Tool V3.10 is safe for PCs, laptops, and mobile devices. Furthermore, since this flash tool is an official release from the Coolpad Group Limited community, it ensures safety and security when deployed on your computing devices.
Is there any alternative Flash Tool?
QGDP, developed by 360 Security Technology Inc., is the best alternative to YGDP Tool. It also allows you to flash or install .cpb firmware on Android devices.
Where can I find compatible firmware?
If you are looking for the original Firmware (Stock ROM) compatible with YGDP Tool, then head over to the CPB Firmware page.
Where Can I find USB Driver?
The original driver compatible with YGDP Tool can be found on the Coolpad Driver page.